The following code models a report we'd like to schedule in ReportCaster:
-* File BurstByEmail.fex
DEFINE FILE GGSALES
 EMAILADDRESS/A50 = DECODE REGION ('Midwest' 'bgates@microsoft.com'
                                   'West'    'ghopper@usnavy.gov');
END
TABLE FILE GGSALES
"Sales Report"
SUM DOLLARS/I9C
BY  EMAILADDRESS AS 'Email Address'
ON  EMAILADDRESS PAGE-BREAK AND REPAGE
BY  ST
IF  REGION EQ 'Midwest' OR 'West'
ON TABLE SET STYLE *
  INCLUDE = endeflt, $
 ENDSTYLE
END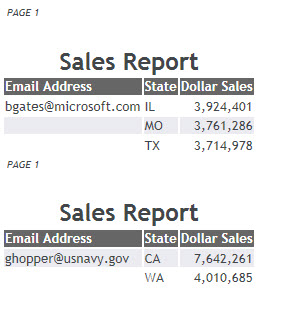 The scenario is that one TABLE FILE command will crank out a report sorted by email address (a person).
We would like the schedule this job in ReportCaster and have RC burst the report by email address, and send out the report to the email address for that page/section of the report.
We've only begun to use RC, and at this point we've only been sending out a specific report to a specific email address. (This has been working great! :-))
This is the first time we are attempting to burst.
The email addresses found and displayed by the report can vary. It wouldn't ever necessarily be the same person(s). (In other words there isn't a 'distribution list'.)
Any/all assistance gratefully accepted.
This message has been edited. Last edited by: David Briars,