November 05, 2018, 03:20 PM
folkie
[CLOSED] panels not appearing in App Studio
In App Studio, in the View section in the Utilities tab of the Ribbon, I checked Properties, Settings, Tasks & Animations, and Requests & Data Sources. Until a few months ago, and after I figured out how to have all 4 panels in one container on the right hand side of the canvass (when editing HTML pages), maybe about half time I open HTML pages, the panels do not appear (or at least I can't find them).
There's a 5th item on the View section in the Ribbon called Thumbnails. I don't normally use that, thus that is usually unchecked. But, in trying to figure out this issue, when I do check Thumbnails, the Thumbnails panel does appear in the right hand side. And if I uncheck Thumbnails, its panel disappears. Meaning Thumbnails works as it should - too bad I don't use it. But in the last few months, the other 4 panels are not always working. Closing/reopening App Studio doesn't help. Sometimes rebooting (the next day) has worked.
I'm wondering if anyone has an idea to help me get the panels that I check to always appear. Short of that, is there another way to get to all the settings/info that are in these panels? I'm kinda stuck without those panels.
Thanks,
Mark
This message has been edited. Last edited by: FP Mod Chuck,
November 06, 2018, 11:26 AM
Hallway
This seems to be a bug in AppStudio. For me, I've noticed that if I have panels pinned, and I move AppStudio to a different monitor that has a different resolution (in a multi monitor set up), that the pinned panels then shrink to zero pixels wide. To get them back, just move your cursor to the edge of the AppStudio window that had your panels, until your cursor turns into the col-resize cursor.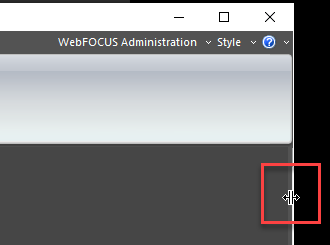 Then just click and drag it back to the size that you need.
November 07, 2018, 09:06 AM
folkie
Hallway,
I had already tried something similar, which didn't help. I use App Studio on a computer that I remote desktop into. I have 2 monitors, but the computer I remote into can only use 1 of the monitors. Thus, App Studio has always been on (the same) one monitor.
I usually have the App Studio window maximized. But I've made the window smaller to see if I could see the panels on the right hand side (where they are pinned when I see them). But whether I make the window smaller or leave it maximized, I don't get the col-resize cursor or see the panels when I have this problem. I didn't use App Studio yesterday. I tried it today, and (like Monday) there are still no panels.
Thanks,
Mark