I've been having problems with a set of PDF statements, and have tried many different solutions to try and get the performance a little quicker.
Background
The statements are made up of several components that in most cases need to follow the previous component, i.e. a NOBREAK.
This particular statement run will produce 2,500 statements.
Problem
As mentioned in a previous post, I tried a compound layout to do the whole thing, and found an issue at component 10,001.
So I changed the process to only have small compound layouts. This started out great,
the first 100 or so statements were produced every 3 seconds, but as the processing moved on, the performance degradation increased until I had to kill the report after almost 24 hours and about 1500 statements.
I changed things around and made sure that all hold files going into the statement build were FOCUS files, as there was a big loop creating each statement one at a time.
This improved things marginally.
Next, changed the process to use the old COMPOUND OPEN/NOBREAK/CLOSE. This started very quick, but again the same degradation happened, and after a couple of hundred statements the degradation was worse than using the COMPOUND LAYOUT command.
Here is a graph of the performance of the 1500 statements.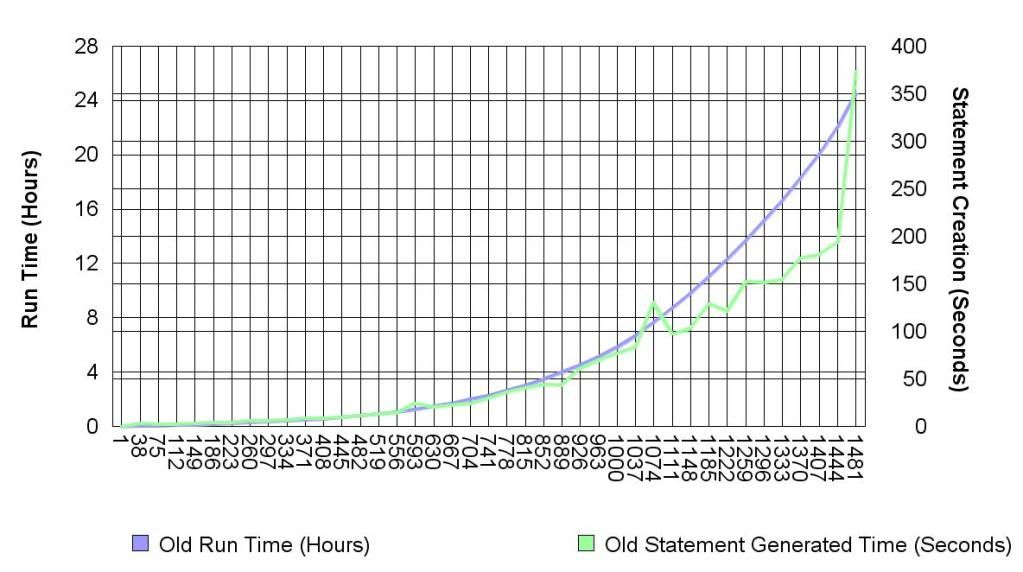 Solution
Working on the idea that the old COMPOUND OPEN/NOBREAK/CLOSE is initially quicker, and that the current agent has some sort of issue with multiple or large compound documents that have NOBREAK functionality in it, I decided to try creating each statement in a new agent. This is done with a REMOTE DEST LOOPBACK, and some code.
The process goes...


Write all hold files used in the statement created as FOCUS files. No need to use FILEDEF to allocate the files.

Write out the required code to a temporary fex TMP_FEX

Get the agents temp location with TEMPPATH

Add REMOTE DEST LOOPBACK

Add -REMOTE BEGIN

Add APP MAP TMP_PATH to the temp path

Add APP PATH TMP_PATH + any others needed.

Add EX TMP_FEX required variable list

Add -REMOTE END

Add REMOTE FIN LOOPBACK to end this agent, otherwise the next call will use the same agent.

Here is a graph of the performance with the new code for all 2500 statements.
And the comparison.
All 2500 were created within 3 hours.
This message has been edited. Last edited by: Waz,
Waz...
Prod:
WebFOCUS 7.6.10/8.1.04
Upgrade:
WebFOCUS 8.2.07
OS:
Linux


Outputs:
HTML, PDF, Excel, PPT
In Focus since 1984


Pity the lost knowledge of an old programmer!