Focal Point
[CLOSED] WF 8202 Web node on Home Page
February 12, 2018, 02:51 PM
Tim P.
[CLOSED] WF 8202 Web node on Home Page
In WF8105 there was a 'Web' node in the resource tree that appears to have been either removed or forgotten in the new WF8202 home page. Does anyone know how to get it to show up in the new home page?
I can still see it in the legacy page but haven't found a way to turn it on in the new layout.
Thanks!
This message has been edited. Last edited by: FP Mod Chuck,


WebFOCUS App Studio 8.2.02
Windows 7, All Outputs

February 13, 2018, 11:07 AM
FP Mod Chuck
Tim
You are right I don't see a way to change this either. I looked in the administration console and nothing jumps out. As you said you can view it in the legacy view and in App Studio but not in the new default. Might be worth opening a case to find out if there is some hidden method to display this.


Thank you for using Focal Point!

Chuck Wolff - Focal Point Moderator
WebFOCUS 7x and 8x, Windows, Linux All output Formats
February 13, 2018, 01:09 PM
CoolGuy
I also don't like that they gutted being able to view portal container files from the Content area's tree on the left. You have to view them via the Portals tab. You can however see them in the final listing in the center of the page. So I guess it's partially shown under Content.


8.2.02M (production), 8.2.02M (test), Windows 10, all outputs.
February 14, 2018, 07:21 AM
Tim P.
So I opened a case and the answer I got was that that particular feature was left out of the new portal home page as a design choice. If I wanted to get to it I should use app studio or go back to the legacy page.
For the life of me, I cannot fathom why you would go through the trouble of designing and developing a new portal home page, remove key features and then tell everyone to use the legacy home page if they want those back. It would be like Microsoft building windows 7 without file explorer and then telling everyone to go back to windows vista if they wanted it back.
At the very least options could have been made in the admin console to toggle things like this.
I'll be opening up a NFR for this.


WebFOCUS App Studio 8.2.02
Windows 7, All Outputs

February 14, 2018, 11:33 AM
CoolGuy
Good luck Tim! Love the analogy! lol


8.2.02M (production), 8.2.02M (test), Windows 10, all outputs.
February 14, 2018, 11:43 AM
Francis Mariani
Tim, very well put.
quote:

... left out... as a design choice...
This cynic doesn't believe the explanation. I believe they forgot to include it - in this particular example and several others.
Francis
Give me code, or give me retirement. In FOCUS since 1991
Production: WF 7.7.05M, Dev Studio, BID, MRE, WebSphere, DB2 / Test: WF 8.1.05M, App Studio, BI Portal, Report Caster, jQuery, HighCharts, Apache Tomcat, MS SQL Server
February 15, 2018, 09:09 PM
Jim Thorstad (WebFOCUS PM)
Thank you for sharing feedback on the new Home Page. The initial 8.2.02 release of Home Page and WebFOCUS Designer prioritizes the features needed by business users over other features useful to developers and administrators. The Web node is a feature of the Legacy Home Page used by developers to create certain kinds of applications and it is not something we believe business users would need or want.
The Basic Portals node is a feature of the Legacy Home Page used to create and edit Basic portals. While it might have been used by business users prior to 8.2.02 to access portals, feedback from customers was overwhelmingly in favor of the new 8.2.02 Portals View in the side bar especially because it merges Basic and Collaborative portals in one place and introduces thumbnails and tags. As an accommodation to developers and administrators, we expose the edit menu on Basic portals in the new view but to interact with the portal pages (such as to make rules) or to make new Basic portals developers need to use the Legacy Home Page.
There are other features that were intentionally left out of the initial Home Page including Change Management and the Reporting Server node. We didn't want to rush these aspects because we think there may be a "simple change management" feature we could integrate directly into the Home Page Content view. We also want to redesign the CM import/export UI and this will take more time than we had available.
If it would be helpful, the Portal product management team could host a town hall with the FocalPoint community over webex to discuss the Home Page and WebFOCUS Designer tools. There are excellent videos available in the Technical Content Library also
https://webfocusinfocenter.inf...02-new-features.html
.


WebFOCUS Product Management
February 16, 2018, 11:45 AM
CoolGuy
Hey Jim,
Thanks for chiming in!
I just began testing and using the new 8202(M) interface, and I do like it compared to what we had. It's light years better. My earlier comment was due to my not having really gave the new UI a good run through yet. I now understand that the left tree ONLY contains folders, and does not display actual files in those folders. That is left to the center panel. Now that I get that, I'm cool with it. For some reason, my goofy brain was thinking I saw content in the tree, but wasn't seeing any collaborative portal files with it all. My eyes were horse-blinder-ed to looking for the portal files w/o noticing that other files weren't there either. LOL Sorry about that one.
We have never used the web node; so no biggie there.
I do however hope to see and look forward to access to the Reporting Server node, and a way to use Change Management somehow (however you guys choose to implement that, I'm cool with).
Also, the #1 thing I would SUPER love to see is the Reporting Server Console as an option in the UserName > Administration drop down in the top right.
We've noticed that that drop-down menu disappears and is unusable if you aren't in a desktop-sized viewport/window. We'd love to be able to get to that menu if we're on our phones if needed as well.
Thanks for all you've done thus far though! Really liking the direction you guys are going in!
Regards,
CoolGuy
This message has been edited. Last edited by: CoolGuy,


8.2.02M (production), 8.2.02M (test), Windows 10, all outputs.
February 16, 2018, 12:13 PM
Hallway
So I can see how to get to the Legacy Home Page by clicking on the menu in your User Name:
And this is all fine and dandy as long as your window size is >= 1200px: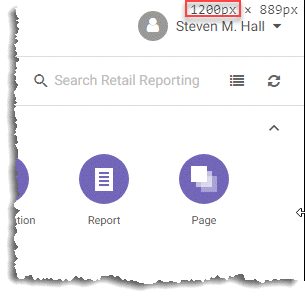 However when your window is < 1200px... POOF!! It disappears. So how can you access this on mobile?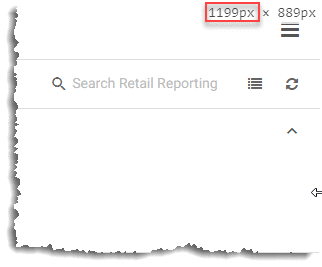 When the window is < 1200px, the enabled hamburger menu allows for the ability to change our passwords... but oddly enough only in this scenario, not while in desktop.
Why not also add in the rest of the top right drop-down menu as well?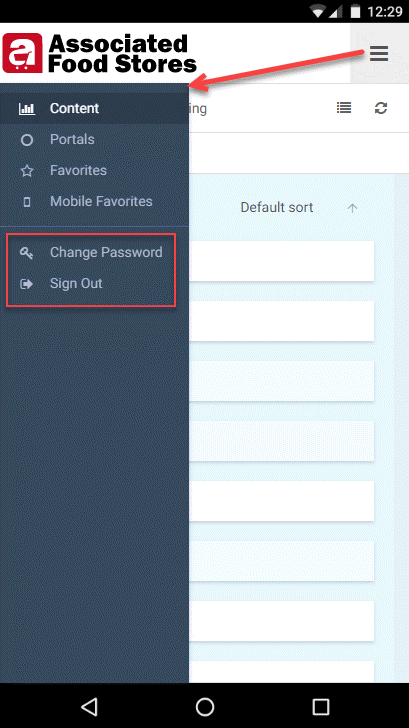 This message has been edited. Last edited by: Hallway,
| | |
| --- | --- |
| | Hallway |
| WF(Prod): | 8202M1 |
| WF(Test): | 8202M4 |
| OS/Platform: | Win 10 |
| Outputs: | All |
July 23, 2018, 02:25 PM
Krishna.edara
Hi Hallway,
we recently migrated to 8.2.03 and I tried the Legacy home page and I successfully go in but from then when ever I access portal my default view is Legacy home page, how can I go back to portal view?
Thanks,


WebFocus-8/Windows/HTML, PDF, EXCEL